Meet Dr. Benjamin Wilson
Dr. Ben was introduced to the healing power of chiropractic at a young age. As a teenager, he played tennis competitively and suffered from frequent shoulder problems. When his mother took him to see a local chiropractor, he experienced incredible relief. He was back on the tennis court the same day.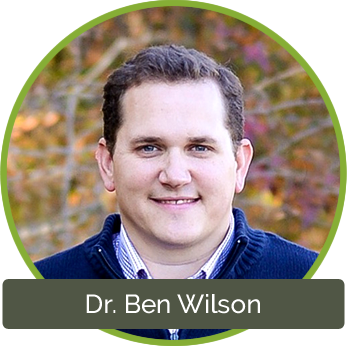 In addition to the relief he found from his shoulder pain, Dr. Ben realized he had other great results from chiropractic. Having suffered for some time with asthma symptoms, he noticed that his usual triggers had disappeared.
Reliable Results With Chiropractic
Like most college students, Dr. Ben sat in cramped seats with tiny desks and carried a heavy backpack around his college campus. He developed sciatica, which made it difficult to get proper rest and left him unable to focus or study well. Needing to turn things around, Dr. Ben contacted his hometown chiropractor, who referred him to another chiropractor close to school.
With a few adjustments, his sciatica had been relieved, and Dr. Ben had decided that he wanted to study to become a chiropractor. He'd experienced such positive results with chiropractic that he was determined to give back to his community. He went on to earn his chiropractic degree from Texas Chiropractic College. In addition to chiropractic, Dr. Ben is licensed in acupuncture and has completed coursework for proper application and use of Kinesio tape.
Education
Tyler Junior College – Associate Degree – Natural Science / Pre-Med (1999)
Texas A&M University – Bachelor of Science – Biomedical Science (2001)
Texas A&M University – Master of Science – Veterinary Medical Science (2003)
Texas Chiropractic College – Doctor of Chiropractic Medicine (2006)
Texas Chiropractic College – Licensed Acupuncturist (2006)
A Member of the Tyler Community
Dr. Ben and his family are active members of the Tyler community. You may find him working out at XTC Fitness & Sports, or walking through Rose Rudman Park with his wife, Mandy, and his two sons, Jack and Henry. They are also big fans of local live music at Stanley's Famous Pit BBQ and The Liberty Theater.
When they're not in Tyler, the Wilsons like to travel and enjoy outdoor activities like camping, hiking, and appreciating nature. They especially enjoy spending time at the beach snorkeling and marveling at the wonders of the ocean. They maintain a large reef aquarium at home with many tropical coral and fish.
Let Dr. Ben share with you his experience as a patient and a chiropractor. Don't wait to find relief. Schedule your consultation today!
---
Dr. Ben Wilson | East Texas Family Chiropractic | (903) 535-9355